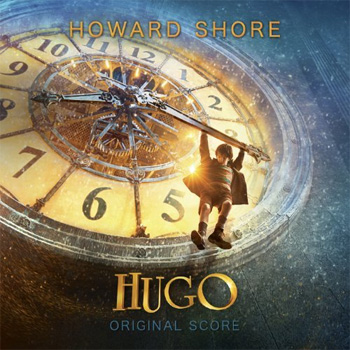 Title: Hugo
Composers: Howard Shore
Label: Howe Records
Release Date: November 22, 2011
Unlike Happy Feet Two or Tower Heist, I could never tell you what Hugo was about based on the bus ads. Does he live in a clock? Is he some sort of hunchback? No and no. He's an orphan who lives in a train station dead set on finding out what happened to his late father. But even if Wikipedia wasn't a mainstay in my life, the soundtrack would've been a helpful tool to figure Hugo out.
Each song title acts like a chapter to Hugo's story. Starting out with a crime, "The Thief" sets the tone for what can only be an adventure in the making seeing that it leads to "The Chase." A good majority of the tunes have an Italian backdrop to them like "The Movies," which is a bit confusing seeing as this 3D account is set in Paris. Things are back on track for the City of Light when "The Invention of Dreams" rolls around towards the end. It's bound to remind animation lovers of a certain rat from a few years back.
The location may be hard to define from the sound, but the storyline becomes clear and one can hear in the tone of each track Hugo's emotion. Obviously "Hugo's Father" isn't the happiest of songs in the bunch. Flipping that frown upside down, one can assume by the upbeat way of "Bookstore" that Hugo's relationship with books is one of the only things this kid has going for him. In a world where your only family is gone, drowning your sorrow in other realities is your best bet at happiness.
So whether or not the music of Scorsese's first attempt at 3D takes you to Italy or the right side of Paris, one thing's for sure, if you listen to it like you read a book, the story will unfold.
Track Listing:
"The Thief" (4:21)
"The Chase" (2:50)
"The Clocks" (4:28)
"Snowfall" (1:51)
"Hugo's Father" (3:25)
"Ashes" (2:33)
"The Station Inspector" (1:10)
"Bookstore" (1:52)
"The Movies" (1:29)
"The Message" (4:37)
"The Airmore" (2:33)
"Purpose" (2:04)
"The Plan" (2:49)
"Trains" (2:50)
"Papa Georges Made Movies" (1:53)
"The Invention of Dreams" (6:29)
"A Ghost in the Station" (6:01)
"A Train Arrives in the Station" (3:26)
"The Magician" (2:34)
"Coeur Volant, Zaz" (4:19)
"Winding It Up" (4:11)
Kendra lives somewhere in between reality and believing she'll marry Backstreet Boy Nick Carter. After two years of stress thanks to a job she grew to hate, she left and focused 90% of her attention on the one thing that had been her right hand man since she was 13: writing. Currently she writes often for Fandomania, Roni Reports, MTV Geek, and her own music blog, Golden Mixtape.