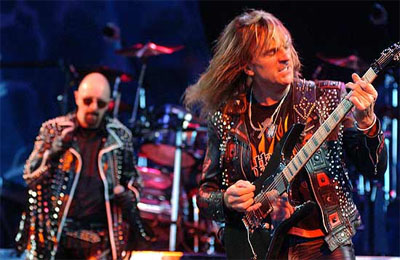 The downloadable content for Rock Band next week will be a big one, as Harmonix has pulled the veil away from their first full downloadable album: Screaming for Vengeance by Judas Priest. The album will be available in its entirety for 1200 MS Points ($15), or you can grab each individual song for 160 MS Points ($2) a piece. The album and singles all will be available for download via XBox Live on Tuesday, April 22.
In addition to announcing the Judas Priest album, Harmonix also announced that The Cars' self-titled album and Doolittle by The Pixies are in the pipeline and will be coming soon.
Here's the full tracklist with a YouTube sampler for each of the Judas Priest songs, after the jump.
The Hellion / Electric Eye

Riding on the Wind

Bloodstone

(Take These) Chains

Screaming for Vengeance

You've Got Another Thing Coming

Fever

Devil's Child

I was unable to find videos for the rest of the last track, but it is "Pain and Pleasure."
Jason is the founder and managing editor of Fandomania. He is severely into toy collecting, plays a worryingly large amount of games, watches way too many movies and TV shows, and reads more than his fair share of books and comics. He also likes guacamole.