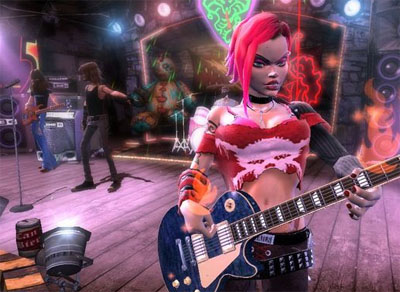 I've been pretty hard on Activision and Guitar Hero in the past, from their overpriced downloadable songs to their inflexibility with allowing Rock Band peripherals. But now I think they just might be setting a good precedent for the music game genre with their latest decision concerning the upcoming Rock Band-esque Guitar Hero World Tour. Unlike the Guitar Hero: Aerosmith release, World Tour will allow cross-game DLC. This means that any songs you've downloaded for your Guitar Hero III game will work with Guitar Hero World Tour as well.
No details or announcements have been made about the surely upcoming Rock Band 2, but having GHWT feature cross-game compatibility for downloadable content should send up a signal that Rock Band 2 will allow you to play your many Rock Band downloads as well. The folks at Harmonix are good at pleasing their fans, and I highly doubt they'd limit DLC compatibility in their next installment, especially now that the distinguished competition is allowing for it.
Source: Kotaku
Jason is the founder and managing editor of Fandomania. He is severely into toy collecting, plays a worryingly large amount of games, watches way too many movies and TV shows, and reads more than his fair share of books and comics. He also likes guacamole.