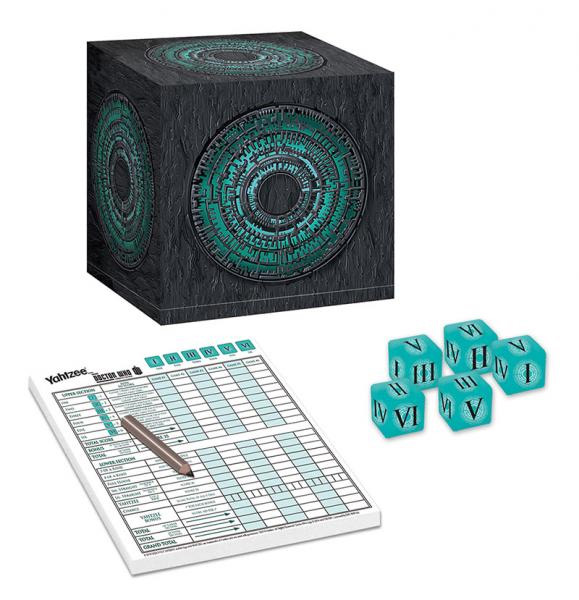 BBC America will be bringing some exclusive merchandise to this year's San Diego Comic-Con, and today they unveiled something you're sure to be into if you like Doctor Who and dice games. In a joint release with USAopoly, they're bringing a special YAHTZEE: Doctor Who Pandorica Edition to the convention. It's a traditional YAHTZEE game, themed around the Pandorica from the end of Doctor Who's fifth season. The official press release describes this limited set.
YAHTZEE: Doctor Who Pandorica Edition lands exclusively at the Comic-Con International: San Diego 2014 convention this July. Produced by USAopoly, under license from Hasbro, Inc. and BBC Worldwide North America, the Pandorica Edition YAHTZEE game allows fans to recall the iconic Doctor Who fifth series finale, which introduced the mysterious chamber hidden under Stonehenge, while rolling classic dice combinations such as a Full House and Large Straight. This game comes complete with a Pandorica stylized box that serves as a dice shaker, custom Roman numeral translucent dice, score pad, pencil and instructions. Supplies won't last, however – this is a special edition item fans won't want to miss.
"We are very excited about this collaboration and we believe this exclusive game is a perfect fit for Doctor Who fans," says John M. Davis, President, USAopoly, Inc.
Soumya Sriraman, EVP of Home Entertainment and Licensing for BBC Worldwide North America, says "USAopoly has been an incredible partner, releasing Doctor Who branded games like MONOPOLY, RISK and YAHTZEE, which have brought fans hours of fun. We're excited that our collaboration continues to grow and to launch an exclusive game for Comic-Con International: San Diego 2014."
YAHTZEE: Doctor Who Pandorica Edition will only be sold at Comic-Con International: San Diego 2014 convention, available exclusively in the BBC AMERICA booth (#4129) on preview night, and then in the BBC America booth and the USAopoly booth (#1017) for the rest of the convention. It will retail for $20.00 (limit two per customer).
Jason is the founder and managing editor of Fandomania. He is severely into toy collecting, plays a worryingly large amount of games, watches way too many movies and TV shows, and reads more than his fair share of books and comics. He also likes guacamole.