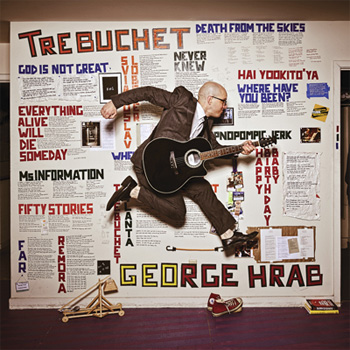 Artist: George Hrab
Album: Trebuchet
Label: Geologic Records
Release Date: June 8, 2010
I'm nearly finished with my geeking over Nerdapalooza (next week will be the last column related to it), but I'm still living on the high of being with so many of my own people at once (not to mention all the great music I discovered there). For this column I'm reviewing Trebuchet, the newest album by George Hrab, who I had the honor of meeting and interviewing (well, helping my wife interview, anyway) at Nerdapalooza. As I've mentioned previously, I am a big fan of George Hrab's music and podcast, and that may bias my review a bit due to my familiarity with the stories behind some of the songs. I'll try, however, to focus on the ones that need no background information.
The album begins with a rather strong statement, using the title of a book by Christopher Hitchens, "God Is Not Great," and the title pretty well sums up the song. Geo is a skeptic and an atheist, and several of the songs on the album reflect this. If you are not comfortable with these kinds of songs, don't fear — there are songs that you can enjoy. I say this not to downplay the importance of skepticism, but to remind people that you don't necessarily have to agree with everything an artist believes in order to enjoy their music.
Since this review is for the geek music column, I'll highlight some of the geekier songs. "When I Was You Age" reminds those of us who are in the mid-30s-to-40 club just how much has changed since we were young. It makes me think of my nephew who is currently ten years old. Like the song says, "I loved Star Wars, but I hear you love Star Wars more than me." It's amazing how some things are the same no matter when you're born. Another geeky song is "Sviatoslav Lobster." While not about anything to do with sci-fi or fantasy, a song that is sung from the point of view of a plastic lobster that a Russian piano virtuoso felt necessary to carry around with him due to his depression certainly qualifies as geeky. Who else but a music geek would come up with a topic like that?
On the more scientific and skeptical side (but still geeky) are the tracks "Far," the theme song for the 365 Days of Astronomy podcast; "Death from the Skies," another track that borrows its name from a book (in this case one by Phil Plait, the Bad Astronomer) about, well, the real, scientific ways that the world might end; and "Small Comfort," a beautiful ballad that helps answer the question of how to deal with death if you are an atheist. Although written for Geo's dog, the song goes well beyond its origins into territory anyone who has lost a loved one can identify with. I defy anyone out there, religious or not, to listen to the song and not get choked up. It took me a long time to figure out why the song ends abruptly, but eventually I realized it's because that's what happens in life. Death comes suddenly and unexpectedly. And it's then followed by another birth, which is, I'm sure, why the track is followed by "Happy Birthday, Baby," Geo's successful attempt to write a birthday song in the form of a jazz standard (I've heard people say they thought it really was a jazz standard when they first heard it, which is certainly a compliment to Geo's compositional skills). It's an interesting transition of styles and moods, but I think by and large it works.
Finally, Geo shows definite influences from funk and prog rock, and both styles are reflected in instrumentals on the album. The oddly titled "Hai Yookito 'Ya" is quite funky, and "One Hypnopompic Jerk" shows off Geo's drum skills. Drums are Geo's primary instrument, which just makes his guitar playing all the more impressive since he's phenomenally talented on the guitar as well. Then there's the title track which is quite distinctly prog-rock in style. It very much reminds me of Yes and Rush in different parts of the track. The placement of the instrumentals on the album is perfect; actually, this is generally true of the placement of all the tracks, with the slight exception of the somewhat jarring juxtaposition which I mentioned above between "Small Comfort" and "Happy Birthday Baby."
This is one of my favorite albums of the year so far. I don't buy many CDs since I have a subscription to eMusic, but I bought this one in part hoping to win the golden ticket (unfortunately for me, it was won by someone in Finland!), but also because it has a nice booklet inside with liner notes and complete lyrics. Geo has said that he strives to make his physical CDs works of art in their own right, and this one is no exception. It's well worth the price.
Track Listing:
"God Is Not Great " (3:37)
"Everything Alive Will Die Someday" (5:07)
"Ms. Information" (4:11)
"Fifty Stories" (4:09)
"Far" (2:55)
"Remora" (4:08)
"Sviatoslav Lobster" (5:02)
"When I Was Your Age" (3:47)
"Trebuchet" (3:21)
"Atlanta" (5:37)
"Death From The Skies" (3:46)
"Never Knew" (4:06)
"Hai Yookito 'Ya" (3:00)
"Where Have You Been?" (2:58)
"One Hypnopompic Jerk" (8:05)
"Small Comfort" (3:42)
"Happy Birthday, Baby" (3:17)
Rating: 4.5 / 5 Stars

Chad (aka Darth Aqueous, Dark Lord of the Fish) is a geeky high school English teacher. He primarily writes about geek music, with a focus on the fandom-y (it's totally a word!) elements of the lyrics. He also produces a weekly podcast with interviews of geeky musicians. He currently lives in Gainesville, FL, with his wife and three cats, Parker (named after the character on Leverage), Anya (from Buffy), and Zoe (from Firefly).