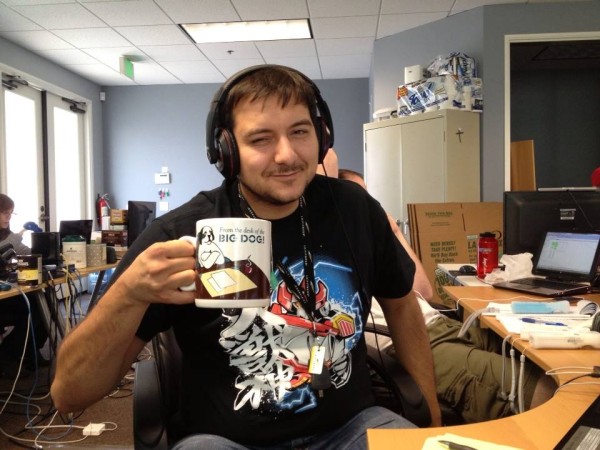 When Logan Earnest was a kid he became an addict. Oh no, this isn't one of those tales found on that Intervention show. His addiction wasn't life threatening or anything; he was just really into Nintendo and, since childhood, has spent one too many hours gaming. Today he's 27 and working at Little Orbit as a QA Team Lead. What's that entail? Basically he manages a group of testers — gives assignments, answers their questions and, when he has a minute, tests the games himself.
So who else better to chat a little about video games this month than a man who sees himself as the original Xbox because he's "positively huge?"  No one, since this guy happens to be someone who delights my Facebook timeline with a love of Godzilla. Now keep on reading to hear what he had to say about the intensity level of gamers, advice for those looking to do what he does, and more.
How did you come to work at Little Orbit?
Logan: I was actually recommended to the studio by a friend who worked there. That's honestly the easiest way to get in.
Is liking to play games enough to have the kind of job you have, or do you have to be the type of person who follows trends, is out at midnight getting the new releases, etc.?
Logan: While loving games is a big plus, you definitely need more than that. You need to have an analytical mind, you need to be patient, and you need to be persistent. When you're in game testing, your job isn't to play the game, it's to break it. Chances are, if you're working in the video game industry you're probably working during the midnight release instead of going to it.
Speaking of, why do people feel they have to have the games right when they're released?
Logan: We're human! We love shiny new things. A lot of these games are titles that people have been looking forward to for a long time! Who wouldn't want that on the day it comes out? It's also good for the video game developers and producers. If you buy a pre-owned title at GameStop, you're only cheating yourself in the long run. None of that money goes to the people that made the games you love to play, and it hurts the chances of that franchise to grow.
Where do you see video games not only as far as graphics and technology, but also the business end, in 15 years?
Logan: It's really hard to see, I'm amazed at the innovations I see almost on a weekly basis. I hope it doesn't get too realistic. I'd feel horrible blowing up some guy that looks like a genuine human being. Right now though, the video game industry is only getting bigger and it doesn't look like it's going to stop any time soon.
What advice would you give someone out there looking to get a job in the video game world?
Logan: If you're serious about getting into the industry, apply to ALL game studios, not just your top five. Personally, I wouldn't recommend working for a studio that makes games you want to play. Chances are game testing a beloved franchise title will ruin it for you. Chances are you won't hear back from anyone for a few months. Different games have different development lengths, and begin at different times. Be sure to be educated on the developers you apply to! If you do apply for Blizzard Entertainment, make sure you've played all of their games, know their history, and know the leads.
---
Next week we take a look at what video game system will always have a place in my heart, and what games I prefer and why.
Kendra lives somewhere in between reality and believing she'll marry Backstreet Boy Nick Carter. After two years of stress thanks to a job she grew to hate, she left and focused 90% of her attention on the one thing that had been her right hand man since she was 13: writing. Currently she writes often for Fandomania, Roni Reports, MTV Geek, and her own music blog, Golden Mixtape.