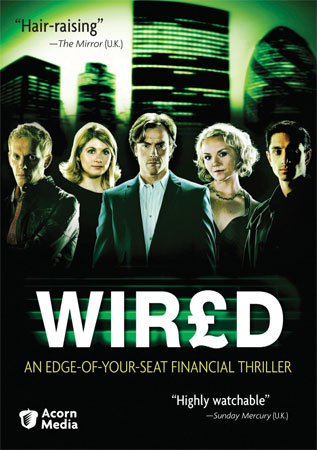 Not to be confused with the tech magazine and website of the same name, Wired debuted in the UK on ITV in October 2008 and ran for three tense episodes. Acorn Media has collected the entire series and recently released it as part of their growing line of British TV on DVD.
Jodie Whittaker (Venus, Attack the Block) stars as Louise Evans, a single mother working for a bank in London. Low on cash, she finds herself coerced into helping out with a shadowy money scam that will leave her with ten thousand pounds for her efforts. As is always the case with these sorts of things, Louise doesn't get off the hook quite so easily and soon finds her life descending into a web of deceit, betrayal, and corporate crime. It's not long before she encounters Crawford Hill (Toby Stephens from Die Another Day and Jane Eyre), a police detective who sees Jodie as his key to breaking the case and who offers her his help. But can she believe his motives, and is he really any better than the criminals with whom she's been working?
There's a lot of story packed into these three episodes, as the conspiracies continually tangle and the lies pile up. Louise doesn't know whether to trust the police or her co-conspirators, and eventually she begins playing her own game, working both ends against the middle. Her precarious balancing act, the tension of corporate intrigue, and the intelligently plotted story come together to produce a miniseries occasionally reminiscent of Fox's Profit series or early John Grisham thrillers. Wired isn't quite as enthralling as Profit, and the feasibility of the story occasionally struggles, likely due to the whole series encompassing only three episodes, but it ends satisfyingly and is worth checking out for any fans of the genre.
No bonus features are included on the DVD release, but all three episodes are assembled. I had not seen Wired prior to receiving the DVD, and with the episodes collected and totaling 134 minutes in runtime, the series feels more like a movie than a TV show.  Laurence Fox, Riz Ahmed, and Charlie Brooks round out the cast in this unique thriller directed by Kenny Glenaan. There aren't a lot of financial thrillers being made these days, and it's good to find one like Wired that is at the top of its game.