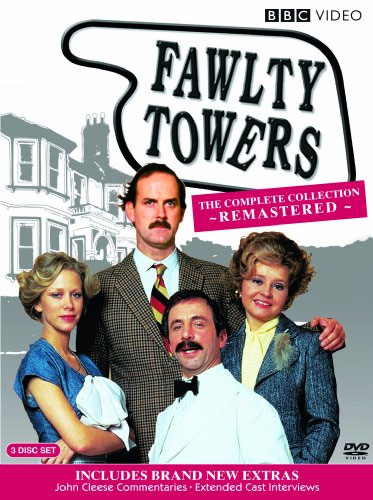 I grew up with PBS and always knew there was some British show in reruns called Fawlty Towers. I never actually watched an episode of it, deigning to spend my valuable public broadcast viewing time on more highbrow humo(u)r such as Mr. Bean. As I got older and became aware of John Cleese and Monty Python, I still somehow never watched a single episode of Fawlty Towers. The BBC somehow learned of my sadly misguided youth and helped set me on the right path recently when they sent me a copy of Fawlty Towers: The Complete Collection Remastered.
The new box set, releasing this week on DVD, collects the entire series with a whole bunch of bonus features on three discs. The first thing that surprised me about Fawlty Towers is that the entire series is only twelve half-hour episodes. For a TV show with as long a comedic legacy as this one has, I expected that it had run on and on as most American sitcoms are wont to do. But no, each of Fawlty Towers' two six-episode seasons appears on its own DVD here, all inclusive.
If you're reading this review, you're probably already familiar with the zany misadventures of henpecked hotel manager Basil Fawlty and his motley crew of hotel staff. I won't go into the content of the show aside from saying that I really was missing out on some great British humor by not seeing this until now. It's most definitely a show you should check out, not only for its cultural popularity and influence but also on its own comedic merits. The whole series has been remastered for this new DVD set, and it all looks spectacular, especially given that it originally aired in the mid to late '70s. As an added bonus, the series now includes exclusive commentary by John Cleese, as well as series 1 commentary by director John Howard Davies and series 2 commentary by director Bob Spiers.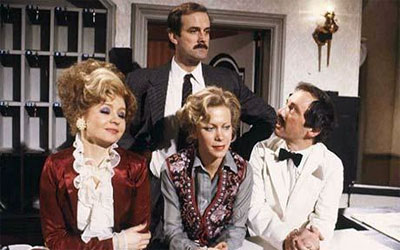 The third disc in the set is the one most people reading this review will be interested in, as it's the one that's chock-full of special features. It's probably easiest to tackle all of them bullet-style, so here's what you can expect from disc three:
Fawlty Towers: Re-opened 2009 Interviews
In 2009, the comedy channel G.O.L.D. produced a two-part documentary about Fawlty Towers that included interviews with all the major cast and crew. About an hour of those interviews is included in this collection, featuring cast members John Cleese, Connie Booth, Andrew Sachs, Prunella Scales, Bernard Cribbins (whom Doctor Who fans will recognize as Donna Noble's lovable grandfather), Geoffrey Palmer, Sabina Franklyn, Nicky Henson, and David Kelly, and producer / director John Howard Davies.
Extended interviews
In addition to the 2009 interviews, there's an extra segment shot prior to 2009 featuring an hour-long interview with John Cleese, a half hour with Andrew Sachs, and around eight minutes with Prunella Scales.
Helpful Staff
This is a text and audio bio feature for all the main cast of the show.
Torquay Tourist Office
One of the most informative features for me was this one, as it's a twelve minute documentary about the hotel and area that inspired Fawlty Towers. It turns out that Basil and his hotel were based on the real Gleneagles Hotel and its eccentric proprietor, a Mr. Sinclair who had a tendency to throw patrons' luggage over cliffs and to chastise Terry Gilliam's American eating habits.
Guest Registry
Similar to the Helpful Staff feature, this one give bio and credit information about many of the guest stars in the series.
Cheap Tatty Review
There's a very odd minute-long scene that has Basil Fawlty on the phone at the registration desk. He's telling someone that Fawlty Towers is finished and he won't be making another episode. In lieu of the usual show, he introduces a… cheap tatty review?
Outtakes
The outtakes segment is one of my favorite features on TV box sets. This one fails to deliver, however, running less than two minutes and consisting mostly of John Cleese rolling his eyes around bizarrely.
If you've never seen Fawlty Towers, this is the perfect opportunity to jump on board, especially with this reasonably priced set. If you are already a fan, this is a good chance to get some stellar DVD remasters with some fun and informative extras.
Pick it up at Amazon, and help us out with our affiliate link: Fawlty Towers: The Complete Collection Remastered
Rating: 4.5 / 5 Stars
Jason is the founder and managing editor of Fandomania. He is severely into toy collecting, plays a worryingly large amount of games, watches way too many movies and TV shows, and reads more than his fair share of books and comics. He also likes guacamole.