The newest releases in BBC's expanding library of classic Doctor Who on DVD hit stores on November 2. The theme for the month is Cybermen as the metallic menaces go on the attack against Tom Baker's Doctor in a 1975 story arc and against Sylvester McCoy's Doctor in episodes from 1988.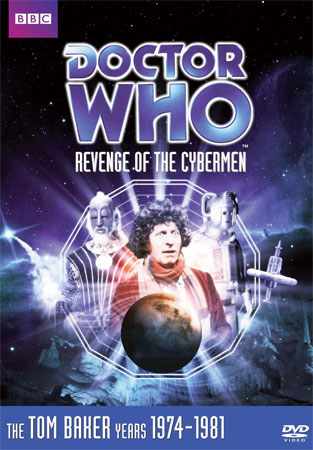 The Doctor, Harry, and Sarah Jane return from a secret mission on Skaro, only to land aboard Space Station Nerva without the TARDIS and with a plague infecting the crew. This adventure originally was a four-episode serial that broadcast in April and May of 1975. It is part of a larger arc about the Fourth Doctor's (Tom Baker) ongoing battle with the Cybermen throughout time and space. "Revenge of the Cybermen" was the first Doctor Who serial to be released on VHS, and now it's part of BBC's new DVD collection. In addition to the four episodes, this release also includes a number of special features:
Audio commentary by Philip Hinchcliffe (producer), Elisabeth Sladen (Sarah Jane), and David Collings (Vorus)
Checks, Lies, and Videotape – A half-hour long documentary about Doctor Who fandom and collecting before official video releases were available
The Tin Man and the Witch – Making-of featurette
Location Report – Interview with Tom Baker from the set at Wookey Hole
Photo Gallery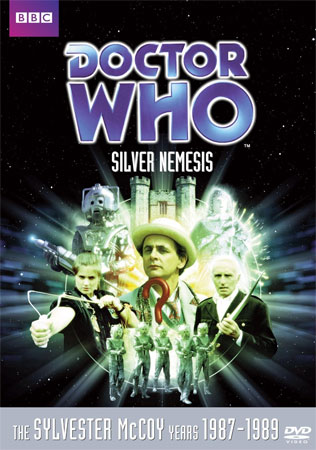 Originally broadcast in 1988 for the 25th anniversary of Doctor Who, "Silver Nemesis" is a three-part story that brings the Doctor back into conflict with the villainous Cybermen. The Seventh Doctor and Ace arrive in then-modern-day England in the midst of a struggle for control over a powerful Gallifreyan statue created by the Time Lord Rassilon. They run afoul of the Cybermen, as well as neo-Nazis and another old enemy, the sorceress Lady Peinforte from 1638. All three episodes are remastered and collected here, alongside an assortment of bonus features:
Audio commentary by Sylvester McCoy (the Doctor), Sophie Aldred (Ace), and Andrew Cartmel (script editor)
Industrial Action – Making-of featurette
22 minutes of deleted and extended scenes
5 minutes of trailers and continuity videos
Isolated musical score
Photo Gallery
Jason is the founder and managing editor of Fandomania, and he co-hosts the weekly Fandomania Podcast with Celeste. He is severely into toy collecting, plays a worryingly large amount of games, watches way too many movies and TV shows, and reads more than his fair share of books and comics. He also likes guacamole.