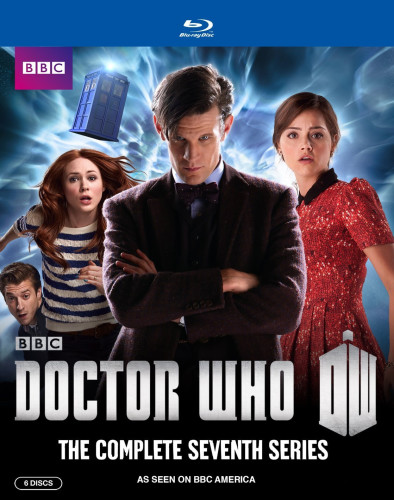 While I've always enjoyed Doctor Who, I can easily say that I thoroughly enjoy it on Blu-ray. It's true that a crisp clear visual makes the show even more delightful and such is the case with the seventh series.
The Doctor Who: The Complete Seventh Series 4 disc bluray set starts off with the 2011 Christmas episode, "The Doctor, The Widow and the Wardrobe". I remember this episode as this was the year that Christmas was ruined by a family fight and I decided to hell with them, got Chinese food, broke out a paper crown from a Christmas cracker, and made sure I had plenty of English cider. So, really, I only partly remembered that episode. Seeing it in its high definition glory truly gave me much more delight than before.
The seventh season itself is a rollercoaster of familiar territory and exciting uncharted realms. The second episode, "Asylum of the Daleks", introduces future companion Clara Oswin Oswald, though it takes an additional four episodes until she takes over for the Ponds. The Doctor's companions have always been there to help us understand the Doctor and his purpose, and with the new series we are immersed in their lives as much as his. This is why so many new fans have fallen in love with the show and they will be delighted in this latest release as the Seventh Series set is absolutely lovely.
Special Features in this set are abundant! To cover every single one would cause this review to run for days, but I will start with the most fun features, which are the prequels for a chunk of the episodes. These only last a few minutes, and I am not sure where these were originally available, but it is great to be able to see them now. They help in establishing what is happening at the start of the regular episodes. The prequel for "Asylum" was terribly entertaining and almost (almost) better than the episode itself. The parts of "Pond Life" are mini episodes that seem to have the purpose of keeping the audience engaged while waiting for regular episodes. It is fun to see the versatile acting of Matt Smith. "Pond Life" is quite silly and entertaining even if the episodes last 30 seconds in some cases.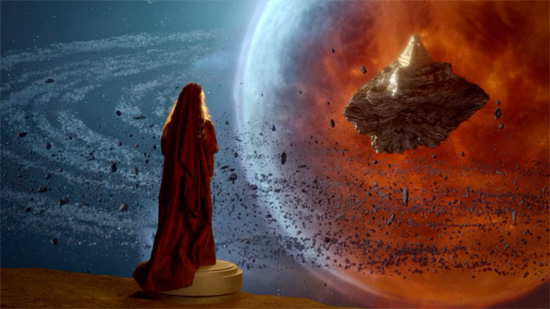 "Doctor Who at Comic-Con" is a fun edit of the 2012 San Diego Comic-Con panel with Steven Moffat, Karen Gillan, Caroline Skinner, Arthur Darvill, and Matt Smith. Along with the cast and crew, fans are featured in all of their cosplay glory. Extending on this, in a way, is "Doctor Who in the US". This feature shows how the series has focused some episodes in the United States and even filmed several episodes here for this season. The series would not have done so if it was not such a success in this country.
"Doctor Who on the Nerdist" is a two-part Matt Smith interview and, while it is insightful, it is a bit jarring to watch for someone not familiar with the series. The editing distracts from the Q&A going on. Also included is the Nerdist podcast with Jenna Coleman. Again, a great interview but the visual editing of the feature is choppy. "Creating Clara" is a ten-minute feature on Jenna Coleman's companion character. The stages of her character are discussed, and the cast and crew give their thoughts on fans' interpretations of who she might be and how she may exist throughout time.
There are 14 Behind the Scenes features that last a total of an hour. These mostly discuss a lot of the special effects like the making of Daleks and dinosaurs. It is fun to see the actors actually acting as, really, they are terribly convincing as their characters. "The Science of Doctor Who" is a great, almost academic series of featurettes focusing on how science fiction and science fact merge on the show. "The Companions" is a 45-minute feature on just why the Doctor needs to travel with others yet, out of the entire new series, the companion that still stands out the most, for me, is Clara. I think it is fun that the Doctor has met his most "equal" companion since Romana — and that is saying a lot. I anticipate seeing her chemistry with Peter Capaldi.
The BBC is truly putting together great packages that do tremendous justice for this beautiful flagship series. Much anticipated now is the complete box set of the entire new series that will be released in November. If I am able to review it for all of you fans, I will be truly blessed. Rewatching Doctor Who: The Complete Seventh Series makes me realize just how much I will miss Matt Smith. He is an incredible actor, and his ability to tackle everything from drama to comedy is seriously admirable. However, watching this great set also just brings the excitement of what is to come.

Lauren became intrigued with pop culture at an early age. Lauren is now in her 30s. She likes to drink lots of water and has a tea before bed. Lauren is extremely clumsy and has a tendency to trip on smooth solid surfaces. For the benefit of the court, she cannot explain timecode.