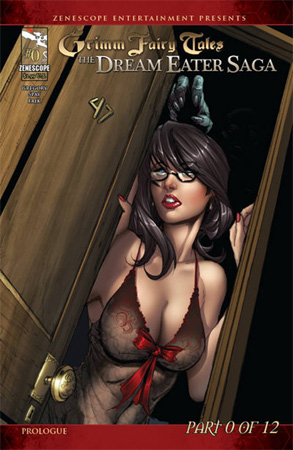 Issue: Grimm Fairy Tales Presents: The Dream Eater Saga Prelude
Writer: Raven Gregory
Artwork: David Miller
Cover A: Mike DiBalfo & Nei Ruffino
Cover B: Christopher Cote
Cover C (Zenescope Exclusive): Ale Garza & Juvaun Kirby
Publisher: Zenescope Entertainment
A long time ago in the fairy tale realm of Myst there was a secret holy order of men and women who recorded the history of "all that had been and all that would be". Each of these individuals had a second sight that allowed them to create records of the amazing things that occurred in each of the four realms of power and collect them in a vast library of "fairy tales". Unfortunately, these men and women are as capable of dying as the rest of the inhabitants of Earth, Myst, and the other power realms. Baba Yaga, perhaps the last of these second-sighted individuals, came to grips with this harsh truth when she was just a child. Hidden from the Dark One's army, Baba Yaga watched as his minions murdered her mother and the rest of the people in their village, unknowingly leaving her for dead when they moved on to other targets.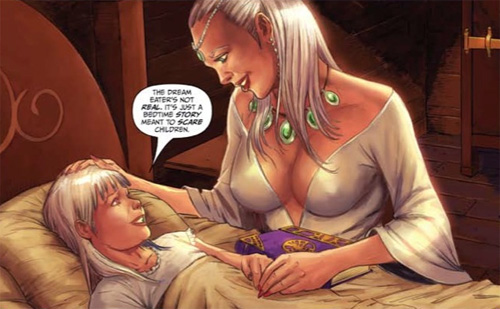 Shortly after, the Realm Knights arrived in Baba Yaga's village to survey the damage and look for survivors. Unfortunately for the young girl, the Knights were more interested in stopping the Dark One's army than rescuing Baba Yaga and they left her behind, among the ruins and dead bodies, when they continued their pursuit of the enemy. Although only about fourteen pages long, The Dream Eater Saga Prelude gives readers what we can assume is much-needed information on the origins of the vengeful and sexy character Baba Yaga. Like Zenescope Entertainment's newest ongoing Grimm Fairy Tales spin-off, Myths & Legends, The Dream Eater Saga is destined to be a bloody, violent fantasy miniseries (if we're to judge by the Prelude issue, that is). Like each of Zenescope's other comic books, The Dream Eater Saga Prelude features vibrant illustrations — in this case pencilled by artist David Miller (BloodRayne: Revenge of the Butcheress, Outlaw Territory, Writer's Block) — that bring writer Raven Gregory's story to life beautifully.
There is no denying that the connections between each of the characters and locations that appear in the various comic book series set in the Grimm Fairy Tales universe can be extremely confusing for readers, but thanks to the seven-page road map provided by the Zenescope team in The Dream Eater Saga Prelude readers now will be able to pick up virtually any issue of any of these series and have a clearer understanding of what is taking place than ever before. The "dictionary" included in The Dream Eater Saga Prelude provides a clear outline of the following: a) Earth and each of the four realms of power (Neverland, Wonderland, Myst and Oz); b) the classes and factions that exist across these various realms, including the Purebloods, Falsebloods, Highborn, the Dark Horde, etc.; and c) biographies of key characters ranging from Sela Mathers, The Dark One, and the Dream Eater to Sinbad, Calie Liddle, and Baba Yaga. As if that weren't enough, the biographies also include the issue and series in which each of these characters made his or her first appearance, in case readers want to go back to the comic book issues to gain even more knowledge about these characters and the events in which they are involved.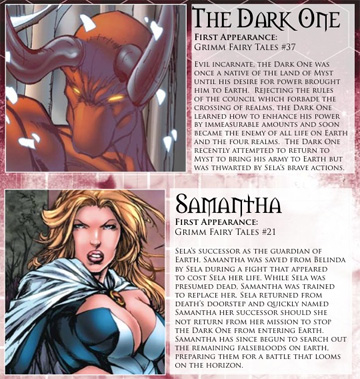 Zenescope's Dream Eater Saga will consist of twelve individual issues, all of which are tentatively scheduled for release this summer:
Grimm Fairy Tales Presents: The Dream Eater Saga Prelude

Grimm Fairy Tales Presents: Once Upon a Time: The Dream Eater Saga: Part One

The Piper One-Shot: Part Two

Grimm Fairy Tales: Myths & Legends #6: Part Three

Wonderland One-Shot: Part Four

Neverland One-Shot: Part Five

Salem's Daughter One-Shot: Part Six

Grimm Fairy Tales: Myths & Legends #7: Part Seven

Sinbad One-Shot: Part Eight

Grimm Fairy Tales #63: Part Nine

Grimm Fairy Tales #64: Part Ten

Grimm Fairy Tales: Inferno One-Shot: Part Eleven

Grimm Fairy Tales Presents: Ever After: The Dream Eater Conclusion: Part Twelve
Rating: 3 / 5 Stars

Paige rejoins Fandomania after taking a two-year hiatus to get her Master's degree in Media, Culture and Communication from NYU.