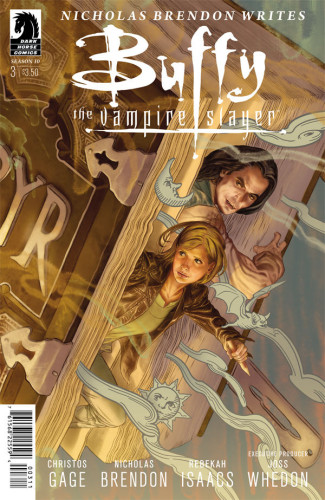 With a former Buffy actor joining the comic this month, it was sure to be a fun time. Between Dracula's power over Xander, zompires disrupting the status quo, and delving deeply into what makes relationships work, Nicholas Brendon helped give us an issue that didn't disappoint.
Note: This recap may contain spoilers!
I love the Dracula storylines, especially when we get to see his hold over Xander. Even after all these years, the man is still under Dracula's power, and that can lend itself to some funny moments. Added to that is Dracula's manservant, Butterfield, who I adored. He has a dry sense of humor, even when talking about the Tuesday night orgies, and can play a lie for the ultimate good better than most. Hurrah for great secondary characters.

After assuring Dawn and Xander that he has not been gambling away his powers again, and that something else must be behind the fact that the zompires are exhibiting some untold abilities, Dracula joins them for their mission to get to the bottom of all this. Sadly, though, the old ways are just not going to work anymore. When confronting the zompire group, instead of falling to the floor under Dracula's command, they are not to be swayed. Only Buffy and Spike's intervention and ability to fight against the creatures helped to give the Scoobies the upper-hand. While it was not an easy fight, it did provide them with more information on just what the zompires can do and how they might be stopped.
But defeat is not going to come immediately, so the group retreats to Xander's apartment for regrouping and rest. Interestingly, while Xander would like nothing more than to be free of Dracula's power, Andrew is falling all over himself to try and become Dracula's new manservant. Is Xander being replaced? Should he be jealous? And will Andrew succeed in winning over the vampire? Eh, not so much.

What the Scoobies often forget is that their tricks do no good with Dracula. Casting a spell to force him to tell them where he gets his power doesn't do any good, but asking him outright does wonders. They should have just done that in the first place. He doesn't need some secret source to draw from to become empowered. He's Dracula, he just wills his powers to be. And since this is a new era of magic, that little trick works for zompires, too. The key in finding out how to reverse that ability will only come through close examination of one of the creatures. Thus, Willow and Buffy are sent out in search of a zompire while the rest of the gang stays behind. What could go wrong?
What indeed. The answer is total destruction. Dracula comes up with a plan, one that sounds logical. Since the new rules are being written into the Vampyr book, why can't they write some of their own? They have the playbook. It's time to use it to their advantage. Mini!Giles is against it, shielding the book to prevent such nonsense. That was a bad move, and the trigger to make Xander fall right back under Dracula's spell. He knocks Mini!Giles in the head so that Dracula can get the book, and the commotion wakes Spike, who joins the resulting fight. Unfortunately, even Spike is no match for Dracula and his minion, and even gets stabbed in the stomach for his troubles, before Xander escapes into the night with his master.

What will become of Xander? Can the Scoobies get him back, along with the book, before Dracula does some damage? And can Dawn and Xander ever repair their relationship? I'm holding out hope. Just don't leave me holding on for too long.
Rating: 4 / 5 Stars

In her youth, Kimberly could be found in the library, devouring books that covered everything from WWII History to Dr. McCoy's latest adventures aboard the Enterprise, with some X-Men thrown in for good measure. Saturdays were often reserved for PBS re-runs of Doctor Who and Red Dwarf. More recently, she's been riding along with the Winchester brothers, and she hopes the Impala doesn't run out of gas for a long time.